About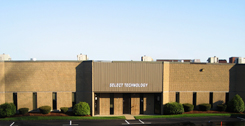 Select Technology is the preferred global stocking distributor, leading the way by providing a full service solution for your component needs. Our goal is to be your long term partner through the entire supply chain cycle, from initial demand through final asset recovery. Whatever your needs are, whenever your needs are, we are there. Our highly trained staff make themselves available to our partners 24/7.
In this industry, experience is everything. Our strength lies in the history and experience of all our employees. The account managers at Select average over 10 years experience in the electronic distribution industry, making them the most qualified staff in the industry. This experience and knowledge allow us to offer faster response times and genuine spot market intelligence.
Our exposure to millions of dollars of excess inventory from Fortune 500 companies enables us to create opportunities to offer positive PPV's and continuing price savings to our customers. When you are faced with a shortage, our extensive on-site inventory, global sourcing partnerships and long term relationships with vendors worldwide help you to get reliable, quality parts in addition to on-time delivery. Our custom inventory solutions provide an array of services, from inventory analysis, forecast consulting, same day liquidation of your entire inventory, to individually tailored consignment programs. Meeting your objectives is our goal.When you partner with Select, you benefit from full visibility through the entire supply chain. Whether you need to track incoming orders, or get real time access to your consigned inventory, we offer full visibility through our dedicated customer services web portal.
Being ISO 9001:2000 certified, quality is apparent in everything we do. From the service you receive, to the parts that we deliver, quality is inherent. Selects' warehouse is fully ESD & MSD IPC/JEDEC J-STD-033A compliant. Our incoming QC inspection team averages 20 years experience in electronic component inspection. You can be sure your components are handled accurately, properly and inspected with meticulous attention to detail and manufacturer specifications.
So take the test, check Select, and take advantage of the benefits that our partners already enjoy. Speed, reliability, experience, and honesty will make Select your only choice.
Our Mission
Determined to create and maintain mutually satisfying, trustworthy business relationships.
Become a valuable link in your supply chain, offering worldwide access to OEM, CEM and distributor inventories.
Buy all your excess, surplus and obsolete inventory outright or create custom inventory management solutions.
Provide a cost effective, high quality service with prompt turn around time.